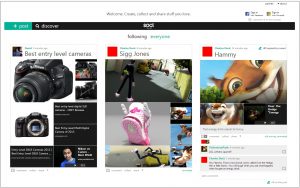 The power of social networking is undoubtedly recognized by every soul involved in online marketing. It's precisely the reason for the phenomenal success of Facebook and Twitter, with a few more trailing behind. For its part, Microsoft's offer is Socl, MSN's own version of social media site. In early December last year, MSN invited those who have Microsoft and Facebook accounts to register to its new project Socl. It was launched in beta version in 2011 for Microsoft employees and college students until its December 2012 launch.
This prompts everyone to ask if there is room for another social network where it is already dominated by Facebook, Twitter, LinkedIn, and Google Plus.
According to Microsoft, Socl is more like Pinterest than Facebook, and not exactly a traditional social network everyone is so familiar with. Socl has photo-filled landing pages which was an upgrade from the beta version, which was less heavy with images. Socl was a product of Microsoft Research FUSE Lab's research into social search for students.
With the recently launched new version, anyone qualifies to register and find content randomly on Socl's homepage or search by topic using Bing. If you want to create a post, contents – photos, links, videos, etc., from other sites can be retrieved and Socl will put together a collage for you.
"Riff" is a term used if you want to comment on other's posts and share related links and images. The profile page is a gallery of the posts created and the interests and people you follow. There are no wall posts and no 140-character tweets.
Socl pays more attention on content than friends. Socl will find your Facebook friends if you register using your Facebook login data. But the site urges people to explore and connect with others based on common interests and posts.   
Socl vs Facebook?

Because of the high prominence of Facebook in social networking, a lot of people are wondering whether Socl is intended to give Facebook some competition. People at Microsoft claims Socl shares not much similarity with Facebook but is more of Pinterest type. Socl, like Pinterest, seems more into browsing random photos rather than communicating with friends.
Microsoft is aware of the limitations of Socl. The company describes it as an "experimental research project with a minimal set of features", and not designed or developed to compete with already established social networks. Microsoft is making an attempt to create a unified and cross-platform ecosystem that is not limited by hardware (Surface tablets) and software (Windows 8), search engines (Bing), and social network (Socl). Viral ad campaigns and Twitter stunts are used by the company to get the experimentation off the ground.
With all issues clarified and explained, people are wondering if Microsoft can make that transformation from an old fashioned image to enter a new era of touch and social technology. How Socl fares in the months to come will likely give the answers.
Socl being considered as a social media site, it does give social media a new feel. With content or useful information being searched by millions every day, it is not surprising that Microsoft bite into this kind of social media presentation.
If you're an internet marketer and is currently on the look for new ways to spread your content through social media, then, Socl could be a possible option. To know how social media plays an important role in SEO, take a look at this article.