People who have been involved in the Internet activities for the last 12 years surely felt the sting of a Google update to their search algorithm. Imagine the voluminous amount of 12 years worth of work that has to adapt to the updates. Long time Internet workers would give a shiver when they hear the words "Panda" and "Penguin". Google interestingly uses black and white animals to name its updates and when people talk about updates, speculations are going around that another Google algorithm update is in the offing and will be named after another black or white animal, a skunk, maybe?  And surely, whatever algorithm update Google is brewing will leave SEO specialists and SEO outsourcing companies in the Philippines, website owners, bloggers and other online collaborators keenly and anxiously waiting.
Vertical Response in their post published on January 28, 2013 shared what they believe is "the next black and white, anti-web spam, animal algorithm update which Google's Matt Cutts is raising over at Google".
Some of the things Google is expected to focus on with the next algorithm update include: 
1. Weak Content will most likely get hit again. No one will be surprised by this anymore. Google has been openly advocating on quality content as vouched by the past duplicate content penalties they have imposed. What is surprising though is the tons of low-quality duplicate contents still being published. Website owners who use guest bloggers to supply them with content for their blogs, should be very careful and should stay away from weak content spun from another post maybe, as this is a great issue for Google.
Guest bloggers with little respect for quality content will usually distribute the same exact article to different websites and Google may not appreciate such behavior and treat it as a way to trick the system. One can anticipate a penalty on the site as a result of low-quality blogging. Even guest bloggers who do great work should keep an eye on their content being duplicated by other blog writers.
Fortunately, there are available tools to check for duplicate content. And whenever possible, instead of using guest bloggers, efforts should be pushed towards writing original and good quality content as a way to start a penalty-free content marketing strategy just in case Google releases the next algorithm update.
2. Poor Backlink Profile. Unknowingly, your backlink profile may not be that spot-on anymore especially if you have been in the online scene for more than five years (as per Internet terms). This means that the links from other websites pointing back to your site are spammy and low quality. And these types of backlinks are Google's pet peeves which it has openly declared it will penalize.
To avoid this, you should constantly check your backlink profile to make sure that no blackhat practitioners have victimized your site. SEOmoz's Open Site Explorer will be a very useful tool for this purpose. However, if you have been victimized after all, you should use Google Disavow tool to get rid of the spammy links which could bring your site down in terms of ranking and all. This tool simply tells Google that you don't want them to look at the links for some reason. But you should make sure that you are not accidentally disavowing good quality links as Google still places high SEO value on them.
And while everyone seems to be scrambling about the looming update, until it's official, it's just rumor and speculation. And this is not unusual in the SEO industry especially if it's about Google update which most of the time is in the habit of not releasing details regarding their updates until announcement day. This can be a good thing since everyone becomes concerned enough to check their backlinks painstakingly. So even before Google releases its update, backlink profiles are as good as new for those who got worried anyway.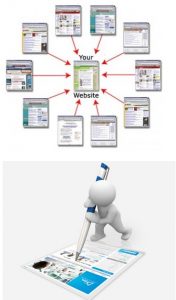 With Google's constant yet unpredictable threat of an algorithm update, webmasters and SEO specialists should have learned their lessons well by now. Google has been very vocal about wanting to provide the user with the best search result and experience. And yet every link building strategy that has been heard of and used in the past 5 years is guaranteed to earn a penalty slap from Google. Apparently, many seem not to have learned their lessons well to date.
By now, you should know by heart what will keep you out of trouble in view of the upcoming Google algorithm update – high quality, compelling and original, and evergreen content. If you keep your content as natural as possible and not over-stuff it with keywords, and if you keep your keywords and landing pages diverse, you steer clear of any Google penalty.
Do remember that in creating content, you give your audience something worth reading. Internet users use search engines to look for valuable content. Give them what they want and you'll get what you want; high ranking.
So regardless if a Google Skunk update really comes out or not, sooner or later, if you go along Google's pronouncements on quality content, by the time the new algorithm update hits the Web, you can just sit back and relax, and not worry about being skunked!
If you outsource your online marketing activities in countries like the Philippines, ensuring that these search engine optimization companies do adhere to Google's standard in topping search rank will be of great benefit to your business. You can check here a good SEO company in the Philippines.