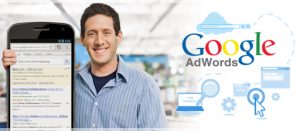 Google has recently announced a new update that will affect all Google advertisers via the New AdWords Enhanced Campaigns. According to Google, the enhanced campaigns offer a major change in the basic organization and behavior of AdWords campaigns. It is a first step in simplifying yet smartly managing ad campaigns in a multi-device world as it combines mobile and desktop search in every campaign.
Growth of Mobile Queries Make Way for the Change 
This change may have been driven by the glaring fact that the growth of mobile queries has incredibly outdone desktop queries. With more activities done on the mobile phone platform, it is, but right that the paid ads for desktop users be made available to mobile users as well without having to set up and manage multiple and separate campaigns for each device. Through Enhanced Campaigns, instead of creating several separate campaigns, reports and ad extensions, the right ads based on their context like location, time of day and device type can reach people across different devices using one single ad campaign. 
How AdWords Enhanced Campaigns Work 
Recognizing the ever-growing multi-device expanse, Google is upgrading the old PPC campaign structure to allow advertisers to leverage on important mobile advertising features without the need to create separate campaigns intended for every location and device combination. What this means is that ad campaigns will now be different in the following ways: 
Geo and Device Targeting. Google is expanding on bid adjustments to include options for location and device instead of confining to time of day options. Geo targeting is key to a successful mobile strategy by targeting the campaigns for different locations – states, cities, radius targeting and many other geo options. With this, more people are reached by the campaign. With Enhanced Campaigns, geo-targeting and device-targeting were made like dayparting. Advertisers will be able to adjust bids either raise it or decrease it in specific locations, consequently, whenever a search is made on a mobile device, a bid adjustment of -100% will equate to zero mobile targeting or advertising in that location.
Smarter Ads Optimized for Different Users. The idea of Enhanced Campaigns is to take the features of mobile advertising and offer them in a much more scalable way for Google advertisers. The Enhanced Campaigns will show the ads across devices with the right ad text, app or extension, sitelink, etc. Furthermore, there is no need to edit each campaign according to the purpose or intent. In a single campaign, Google will make note of what device is executing the search and will correctly pick the right ad to run on the identified device, automatically adjusting depending on what device is used and the geo-location.
Increasing Adoption Rates among SMBs. Enhanced Campaigns are bound to increase the likelihood of adopting the best practice among SMBs that would benefit from mobile PPC. Some of the advantages for marketers that upgrade to the new system will have include:

Better Reporting Options. Google used to offer mobile call reporting features that allow advertisers to see details of phone calls received – the phone numbers, duration of call and when the call was received in exchange for a dollar charge per call. The reporting options for mobile are now getting a lot stronger, and Google is dumping the $1 per call tracking fee. They're making mobile search ROI much easier to track and measure minus the fee.
New Mobile Conversion Type. Conversion tracking was always more challenging on mobile than on desktop search, previously, conversion tracking was based on a user finding a thank you page after placing an online order or after goal completions were made. Technology has enabled people to take action on ads in new ways – see your ad and download your app, or see your add and call you. With Enhanced Campaigns, Google is introducing a new conversion type based on calls and app downloads counted will make it easier to measure the value of your mobile ads.
Dramatically Simplified Campaign Management.  Advertisers can now target users across all kinds of devices using the same campaigns, rather than having to explode their campaigns out for different devices and locations. This will drastically reduce the time needed to manage mobile ads. 
Upgrading to Enhanced Campaigns 
The upgrade path for a vast majority of advertisers who never bothered separating campaigns to cater to different devices is pretty straightforward. A previously created ad campaign intended for desktop only will by default be upgraded to run across both the mobile and desktop devices depending on the device identified by Google users used for their search. Google will automatically set a non-zero initial mobile bid adjustment factor on behalf of the advertisers. 
Google will give advertisers to manually upgrade to the new Enhanced Campaigns until around end of June 2013 before it automatically upgrades all accounts.